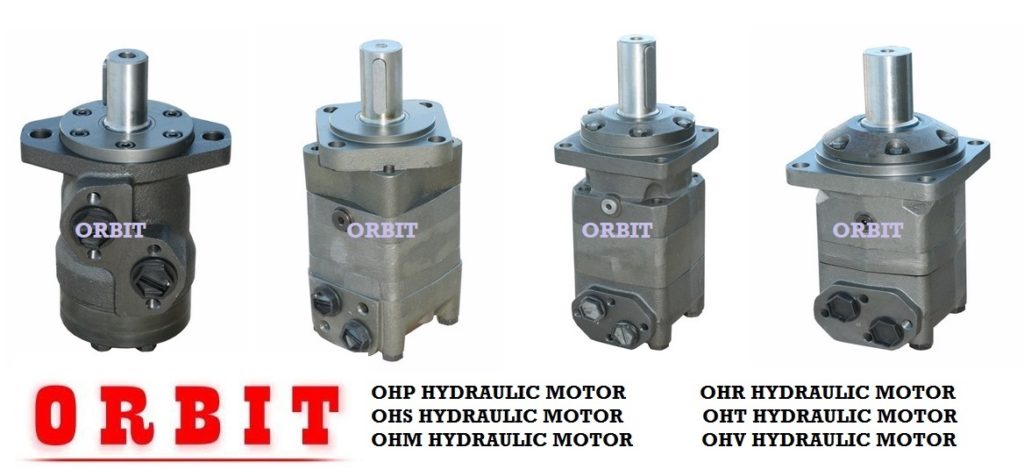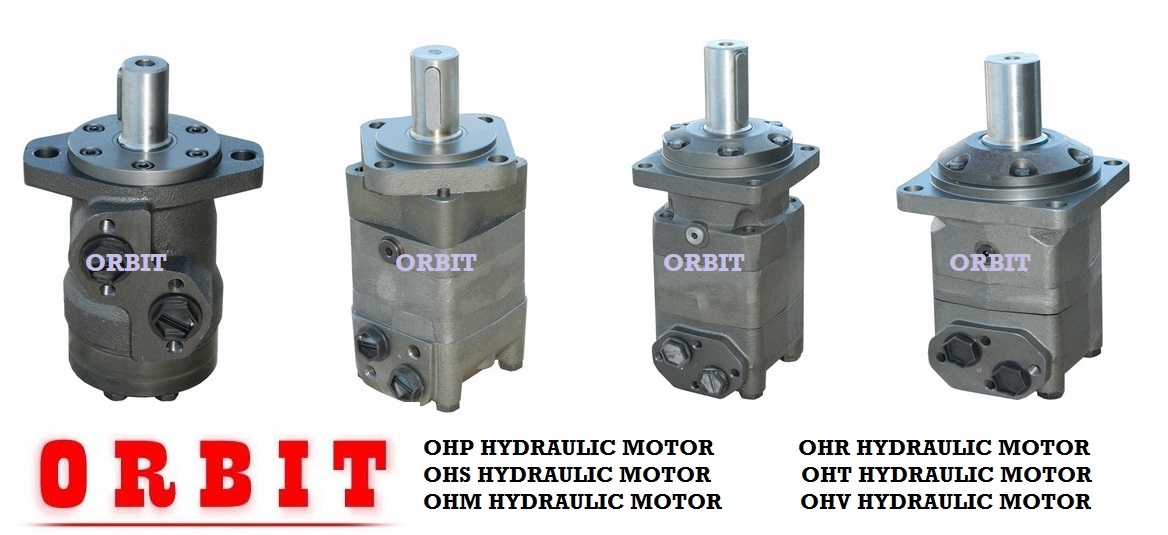 We are Manufacturers & Suppliers of ORBIT Hydraulic Motor
These units are most commonly found on Industrial Sweepers, Road Sweepers, Refuse Lorries, Tractors, Agricultural and Farm Machinery, Combined Harvesters, Grass Cutting Machines, Construction Machinery, Conveyors, Cement Mixers etc. etc.
The Orbit make Hydraulic Motor Range offered generally interchanges with other Hydraulic Motors of the Gerotor and Geroller Type such as Danfoss OMP, Danfoss OMR, Danfoss OMV, Danfoss OMS, Danfoss OMT, M+S MP, M+s MR, M+S MS Hydraulic Motor etc. If you have the Original Equipment Part Number then we can probably match it. Whatever Price you have been given elsewhere we can probably BEAT it!
We are Manufacturers & Suppliers Of ORBIT Hydraulic Motor & Pumps  Also wide range of Hydraulic Motors
We are Manufacturers & Suppliers of ORBIT Hydraulic Motor
ORBIT Hydraulic Motor:
OHL Series ORBIT Hydraulic Motor
OHM Series ORBIT Hydraulic Motor
OHP   Series ORBIT Hydraulic Motor
OHR Series ORBIT Hydraulic Motor
OHS Series ORBIT Hydraulic Motor
OHT Series ORBIT Hydraulic Motor
OHV Series ORBIT Hydraulic Motor
OHH Series ORBIT Hydraulic Motor
ORBIT ' comprehensive range of low-speed Hydraulic Motors are designed for moderate to heavy load requirements. Suitable for closed and open loop hydraulic circuits for work and propel systems, ORBIT Make orbital motors are ideal for agricultural, road building, construction, forestry, public utility and lawn and garden equipment:
Mini orbital hydraulic motors (OHL and OHM)
Medium-sized orbital hydraulic motors (OHP, OHR, OHH, )
Large orbital hydraulic motors (OHS, OHT and OHV,)
It is always possible to find the optimum orbital hydraulic motor solution with the many variants available: 8cc/rev to 800cc/rev, 600 to 2500rpm, 13Nm to 2700Nm and 2kW to 70kW.
We are Manufacturers ORBIT Make Hydraulic Motor Model no of ORBIT Hydraulic Motor is as Under.
ORBIT OHM of OHM8, OHM12.5, OHM20, OHM32, OHM50 Hydraulic Orbit Motor
ORBIT OHP of OHP50, OHP80, OHP100, OHP125, OHP160, OHP200, OHP250, OHP315, OHP400 ORBIT Hydraulic Motor
ORBIT OHR of OHR50, OHR80, OHR100, OHR125, OHR160, OHR200, OHR250, OHR315, OHR375 ORBIT  Hydraulic Motor
ORBIT OHS of OHS80, OHS100, OHS125, OHS160, OHS200, OHS250, OHS315, OHS400, OHS500 ORBIT  Hydraulic Motor
ORBIT OHH of OHH200, OHH250, OHH315, OHH400, OHH500 ORBIT hydraulic motor
ORBIT OHV of OHV315, OHV400, OHV500, OHV630, OHV800 Cycloid Gear Hydraulic Motor
ORBIT OHT of OHT160, OHT200, OHT250, OHT315, OHT400, OHT500 Hydraulic Gerotor Motor
Equivalent Replacement  Sauer Danfoss Orbital Hydraulic Motors; A wide range of low-speed hydraulic motors designed for moderate to heavy load requirements: The range includes of replacement ;
Sauer Danfoss OML and OMM mini orbital hydraulic motors.
Sauer Danfoss DH, DS, OMP, OMR, OMRC, OMH and OMEW medium sized orbital hydraulic motors
Sauer Danfoss OMS, OMSS, OMSW, OMT, OMV, TMK, TMT and TMVW large orbital hydraulic motors
Hydraulic Motors,Hydraulic orbital motor, Hydraulic Gear Motor, Hydraulic Close Loop Motor, Hydraulic Ze-roter Motor, Hydraulic Piston Motor , Hydraulic Spline shaft Motor, Hydraulic Keyway shaft Motor, Hydraulic Disc Valve Motor Etc
​
We are Also Dealing & Replacement Hydraulic Motors Like : Danfoss, Parkar, Eaton, Zihyd, M+S, Intermot, SAI Hydromotor, Sauer Danfoss, Rexroth, Kawasaki Staffa, JMDG Hydraulic Motor, Hydac, Bosch Rexroth, Eaton Vickers, Stauff, Parker, Polyhydron, Yuken, Casappa, Hydroline, Hydax, Verco, Yuci Yuke, Spica, Duplomatic, Atos, Winner, Nachi, Dowty, White, Winde, Bucher, Char-Lynn,  Hydrocontrol, Badestnost, Youli, KTC, Sun, Spica,  Hydroline, Barnes, Caterpillar, Daikin, Danfoss, Denison, Hägglunds, Hawe, Herion, Hydromatik, Komatsu, Linde, Mannesmann Rexroth, Oilgear, Parker-Store, Poclain, Racine, Rollstar, Salami, Sauer, Sauer-Danfoss, Uchida, Etc..
We are dealing Hydraulic Product and service provider of major city in India … Mumbai, Bangalore, Chennai, Ahmedabad, Delhi, Kolkata, Haryana, Gurgaon, Coimbatore,  Bhopal, Rajkot, Vapi, Daman, Nagpur, Aurangabad, Mangalore, Jharkhand, Punjab, Gandhidham, Uttrakhand, Orissa, Hyderabad, Bharuch, Ankleshwar, Gujarat, Madhya Pradesh, Jaipur, Rajasthan, New Mumbai, Surat, Baroda, Vadodara, Pune, Chandigarh, Ludhiana, Indore, Goa, Vizag, Vishakhapatnam, Nashik, Ernakulam, Kolhapur, Maharashtra. Andhra Pradesh, Arunachal Pradesh, Assam, Bihar, Chhattisgarh, Goa, Gujarat, Haryana, Himachal Pradesh, Mizoram, Jammu & Kashmir, Jharkhand, Karnataka, Kerala, Manipur, Meghalaya, Nagaland, Orissa, Sikkim, Tamil Nadu, Tripura, Uttar Pradesh, Uttaranchal and West Bengal. Andaman and Nicobar Islands, Chandigarh, Dadra and Nagar Haveli, Lakshadweep and Pondicherry, Umbergaon, Silvasa, Mehsana, Lucknow. Kanpur, Thane, Bhopal, Visakhapatnam, Patna, Bihar, Ghaziabad, Agra, Faridabad, Meerut, Vasai-Virar, Varanasi, Dhanbad, Amritsar, Navi Mumbai, Allahabad, Ranchi, West Bengal, Jabalpur, Gwalior, Vijayawada, Jodhpur          , Madurai, Raipur, Chhattisgarh, Kota, Guwahati, Solapur, Hubballi-Dharwad, Bareilly, Moradabad, Mysore, Jalandhar, Tiruchirappalli, Bhubaneswar, Trivandrum (Thiruvananthapuram), Bhiwandi,  Saharanpur, Gorakhpur, Guntur, Bikaner, Amravati, Noida, Jamshedpur, Bhilai, Cuttack, Firozabad, Kochi (Cochin), Dehradun,  Asansol, Nanded, Kolhapur, Ajmer,  Jamnagar, Siliguri, Jhansi, Sangli-Miraj , Belgaum, Mangalore, Tirunelveli, Jalgaon, Udaipur, Akola, Bokaro, Bellary, Patiala, Agartala, Dhule, Rohtak, Bhilwara, Ahmednagar, Thrissur, Hisar, Panipat, Karnal, Bathinda, Rourkela, Puducherry,
Your one-stop hydraulic products resource… If it's hydraulic we can supply it!
Contact Details:
Vishal Pipavat
Call Us 
Ahmedabad Gujarat India   : 09998789116
Mumbai Maharashtra India : 08000000816
E-mail: sales@orbithydraulic.com
E-mail: hydraulicmotor@gmail.com
For More Details Visit Website: